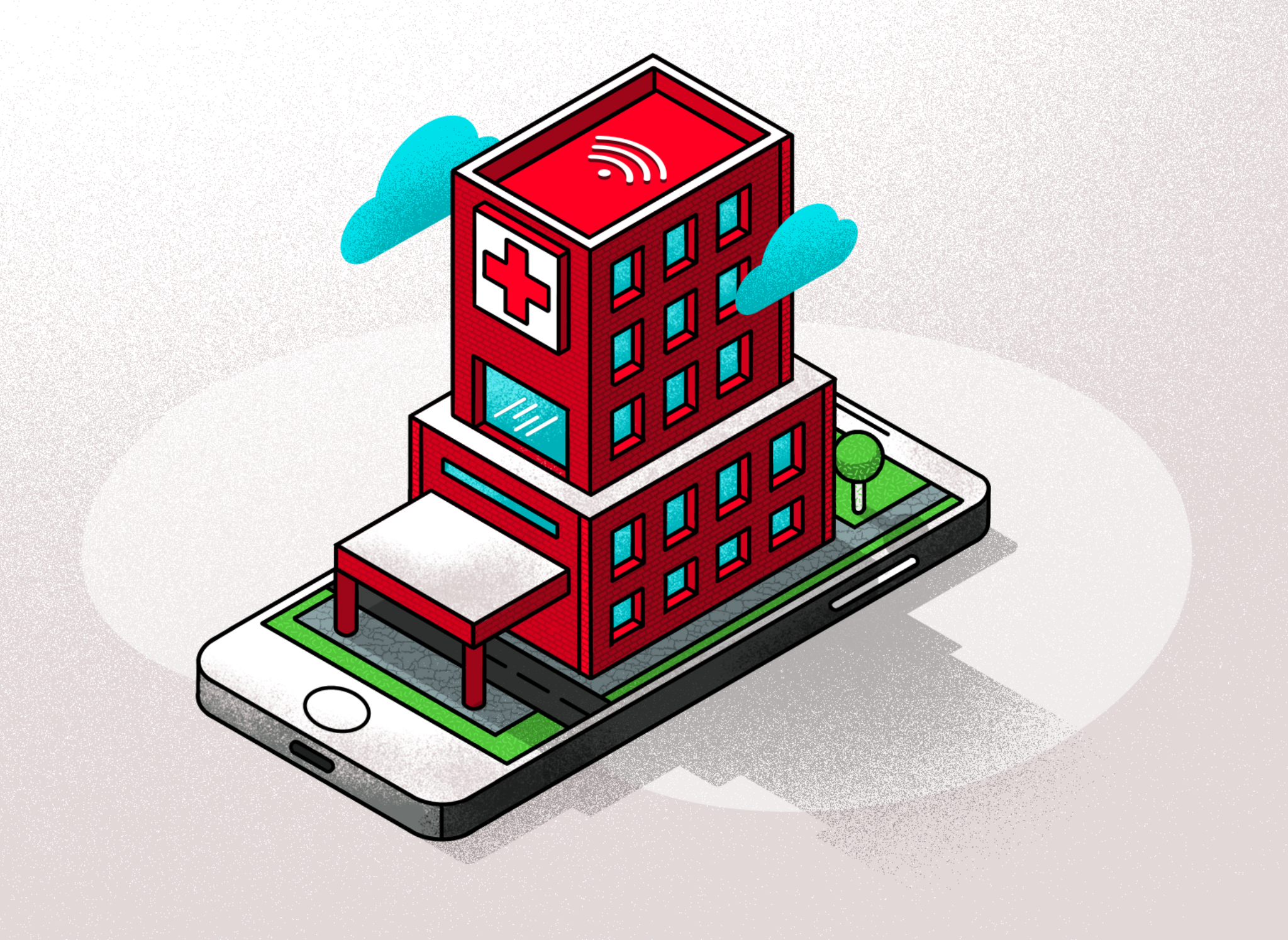 Healthcare shifts to a direct-to-consumer business model — Part 2
Part 2: How to keep up
**STOP. Did you read part 1? If not, go back, read it. And return when done.
Consumer experience is how traditional healthcare can keep up. According to a 2019 Smith and Jones research study, one of the most important factors to consumers is the experience they receive. But because of the digital landscape today, patients aren't going to step foot into your facility to evaluate their in-person experience until they've first experienced your brand on the web. And here is something to consider, these D2C brands are outspending you in the digital ad space. Make sure your patients (and potential patients) have a positive experience across all of your channels by doing these four major things:
1. Foster a community
To your patients, healthcare isn't a transaction — it's personal. They're searching for support in order to navigate their health conditions. The stress of a newly diagnosed health condition can be overwhelming and hard to process. It's comforting for patients to hear that other people have been through the same struggles and were able to persevere. Featuring patients (with permission, of course) in content is a great way to be a resource to your health community.
Then, there are other platforms like Twitter or even Facebook being utilized to build communities that empower and support. Patients can ask questions to other real people who are going through the same things. Another classic D2C method that healthcare is starting to tap into is influencers. Although controversial, many healthcare firms and hospitals are testing this out and seeing positive results. By adding a known or trusted face to your healthcare brand, patients identify with you better.
Many hospitals, including the Mayo Clinic, are even allowing doctors to engage with these communities and even answer questions there. By meeting patients where they are, communities can turn into a unifying powerhouse.
2. Spend digital advertising dollars like a [smart] D2C brand
You have a budget, and it is what it is. The question is, where to leverage those critical media dollars. Choose wisely. It's only useful to advertise when the right audience is being reached.
Sure, it would be great to have a big budget, but whatever that number is, make a strategic decision that prioritizes placement in the channels that are a fit for the audience and goals. Every tactic has its place along the customer journey, it's just a matter of where you want to meet your audience. Once that's determined, the strategy, tactics, and cost will be clear.
Of course, if you have more money to spend on digital advertising, research studies are saying it certainly won't hurt. Direct to consumer brands are far outspending healthcare in digital advertising platforms like search engine marketing (SEM), display and banner ads, and digital video. If consumer-driven healthcare businesses are taking a big bite out of the expanding healthcare pie, it may be advantageous to spend more in these areas, especially video, if that fits in with your strategy.
Recent data from eMarketer says that, although healthcare is spending more on digital video ads than it used to, as an industry, it's still spending far less than other industries. Healthcare firms are spending 29 percent of their digital advertising budgets on video ads as opposed to 32 percent in other industries. What does that mean? Putting more money behind video on digital advertising platforms could help you jump ahead of some of your competition.
3. Portray a consistent brand
Spending your full budget on direct-to-consumer tactics can be tempting — there's a tangible result. But if that's all you do, it won't work. Without first telling consumers the overarching brand story and explaining what makes your hospital's approach to care unique, the network of patients you've worked hard to build will begin to plummet, and competitors can swoop in to fill the void that's left.
Telling your brand's story is a critical piece of seeing ROI for any digital marketing efforts you've budgeted. They go hand in hand. Branding may not always have data to prove your ROI, but it's one of the most influential parts of how a consumer builds trust.
In a recent article by Forbes (worth a read) about the importance of branding, they put it poetically. "No branding, no differentiation. No differentiation, no long-term profitability. People don't have relationships with products, they are loyal to brands." In healthcare, you have the advantage of already being a brand and not a product, so the big hurdle is, making sure you are portraying your brand in every story you tell across every platform you are on, whether that be a billboard, a display ad, or a blog.
4. Be a resource
Google "flu symptoms." You'll get the CDC, WebMD, and Healthline, followed by the Mayo Clinic and a few others. Now google any other health condition. Same results, most likely. If you want to rank for most common health conditions, we have bad news — that's virtually impossible. However, you can still be creating helpful, relatable content for your audience.
The reason powerhouses like the Mayo Clinic are ranking for everything is because they were among the first to realize the importance of a digital presence in healthcare. They've proven themselves for over a decade as thought leaders by providing thorough articles and other resources to web searchers who are looking for reliable answers to their medical questions. But just because you can't go back in time and beat out the Mayo Clinic for the keywords "flu symptoms" doesn't mean you can't produce great content and share it on your channels and your own website.
Inform, educate, and relate to the people in your community, and you will see positive results. Don't create content to compete with Mayo Clinic, create pieces that will specifically answer the questions of your audience. And let your website do the work for you. Having a well-crafted, easy-to-navigate website will be worth the investment, both internally and externally.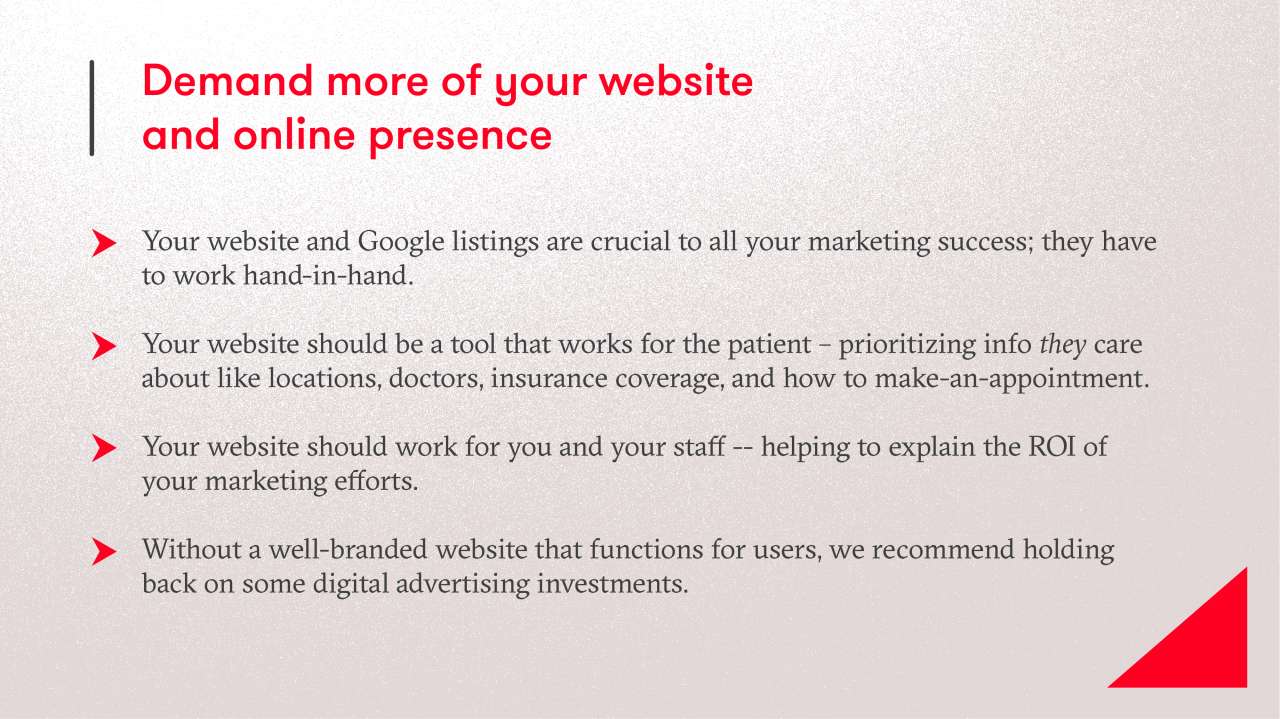 Patients are searching for solutions in the same way that they are searching to buy products — online. Healthcare is now being viewed as a product. The more solutions you can provide for them, the better. A solution could be an answer to their medical question on Twitter or it could mean, by choosing your facility, they have access to an app that will help them track their health concerns. But the most important thing to remember is, they are used to interacting with brands digitally. Consumers build trust by interacting with a brand's many touch points before they make big decisions — by seeing ads, trying out apps, watching videos, visiting social media, websites, and blogs. You have to meet these people where they are.
Choosing the right healthcare provider is hard enough. You can make it easier for patients to trust your brand by simplifying what you do for them and putting yourself in their shoes.
So, now that you know patients are kicking those shoes up on the coffee table watching Netflix and shopping for healthcare in the same way they're shopping for products, it might be time to tweak the plan and become a much more digital-forward healthcare brand.
BACK TO Blog