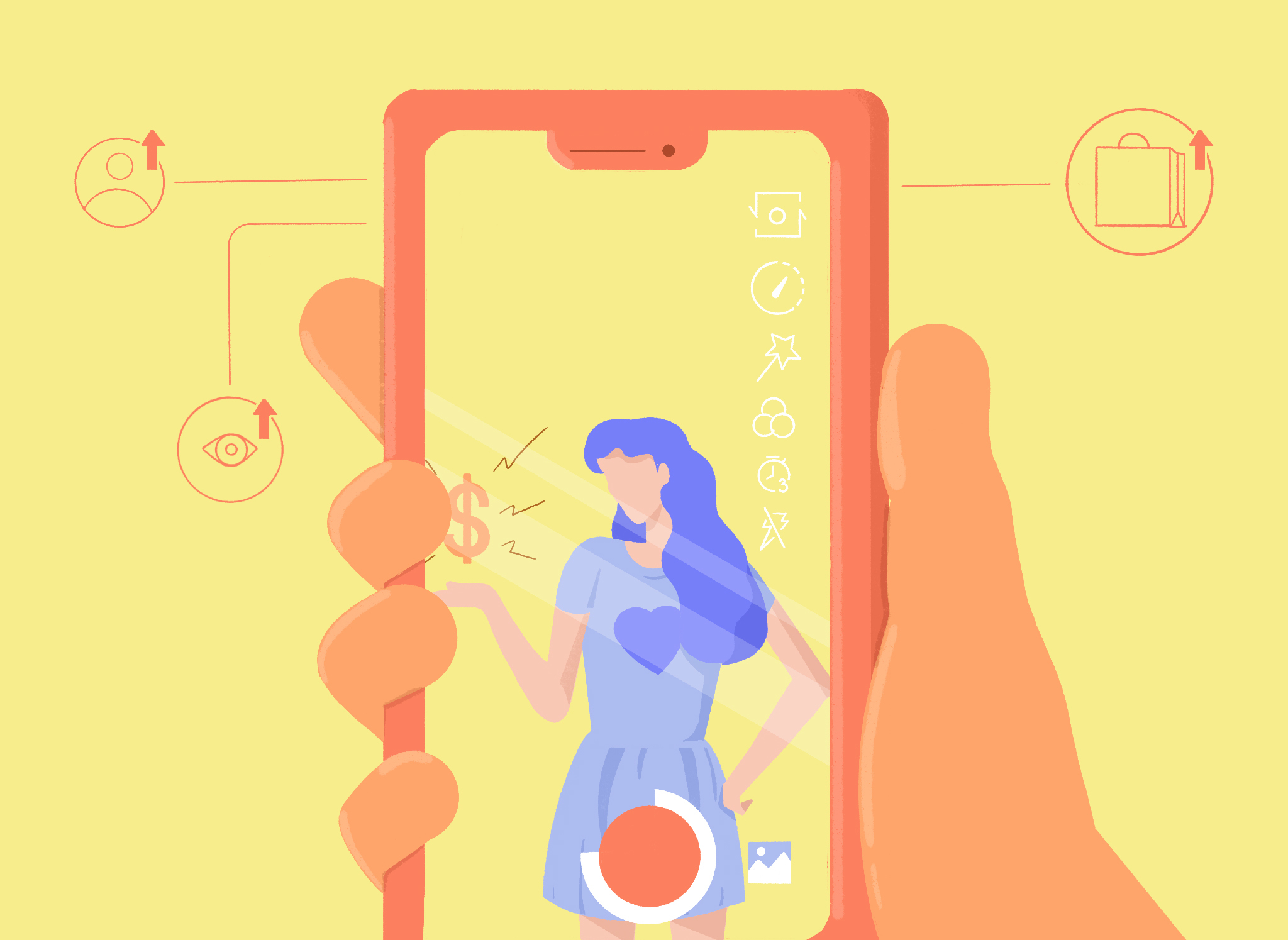 Will your brand benefit from TikTok?
With over 100 million monthly active users, TikTok has taken the world by storm. It's a space where people from all walks of life can show up as their authentic selves, and its rise to popularity came at exactly the right time. Amidst a global pandemic, TikTok fulfilled an entertainment and social void for people around the globe.
The influencer game has been altered forever by the emergence of TikTok — there's a source of connection from brands to people in a way that's never really existed before. Livestream has become mainstream with a massive opportunity for brands to build global communities at scale through earned (and paid) media on TikTok.
How is TikTok Different from Other Social Platforms?
TikTok is more of a content platform than it is social media. You may have to throw out the old social media strategy you've been using for years. It won't apply to TikTok. Instead of traditional ads, you'll need to learn to make TikToks.

The TikTok community is active and attentive, with users spending an average of 85 minutes a day in the app. That opens up a big opportunity for brands to see high engagement with paid ads. Engagement with branded content on TikTok regularly outperforms engagement rates on other platforms.

A common misconception is that only Gen Z uses TikTok, however, while their community does skew younger, the spread among ages ranging from 13 to 44 is fairly even. The audience is also unique, allowing advertisers to reach new audiences that aren't using other platforms. Nearly half of the TikTok audience does not use Instagram.
If you're evaluating paid advertising options, a great place to start is TikTok's In-Feed Auction Ads that appear in the For You feed. Since the key to scaling on TikTok is creativity, it's important to think outside the box of what works best on other media channels. Here are a few best practices for TikTok Auction Ads:
→ Design for sound-on and talk directly to the camera. Utilize dialogue, music, and sound effects. 100% of Auction Ads have sound on and 33% of videos with the highest VTR address viewers directly.

→ Get the message out early and with urgency. Showcase the heart of the matter in the 3-5 second window. 63% of videos with the highest CTR highlight the key message within the first 3s and 50% of videos with the highest CTR contain a compelling CTA.
→ Capitalize on popular trends and appeal to emotion. Get familiar with what the audience cares about and is partaking in. 21% of videos with the highest VTR leverage popular trends/effects/music and 47% of videos with the highest VTR are emotionally appealing.
→ Shoot and edit natively for TikTok. Ads shot vertically have a 25% increase of 6s VTR and 40% of videos with the highest CTR are edited the TikTok way with crisp cuts, zooms, and overlays.
Brands should approach TikTok as a creator, not as a marketer. Rather than strictly following a defined set of brand guidelines, the TikTok community pushes brands to be authentic. When ads match the look, feel, and sound of TikToks, they will live up to the users' expectations. That creativity and positivity can then translate into better performance.
The goal is to co-create with the community. Partnering with a creator is a great way to get a head start when you're breaking into TikTok. Co-creating with the community lets "them" — your audience — take control of your brand. How, you ask?
How to Create TikToks, Not Ads
1. Enable the stories of others through your brand. The level of co-creation between brands and users is higher than ever. From TikTok's infancy, brands have realized the audience on this platform is different, and smartly, have sought a more authentic connection with their customers. TikTok presents the unique opportunity to foster authentic relationships with your stakeholders. Brands should always be listening for a chance to join the conversation, ready to respond quickly to take advantage of opportunities. Do you have that listener/watcher on staff? If TikTok is part of your social strategy, maybe you should...

2. Be authentic. Brands are not people, but brands do have to create a human connection to people. What people expect from their friends, they expect from brands — humility, determination, and optimism. 79% of people turn to social media to find out what's going on in the world. People will often look to brands to help give them a perspective on a hot button topic or even to get a boost to their own self-image. Trusted brands become trusted friends on TikTok.
There's a second piece to being authentic: you don't want to come across too calculated. Some of the best-performing content you'll ever create on TikTok will be on a whim. You can spend countless hours creating a piece of content for it to perform alright. There's no way to really know how something is going to perform until you post it. Experiment with content and create similar content when it performs well. Test, test, test.
3. Stick with it. Be proud of what you're creating and continue to post content that aims to spark joy, inform, and educate. Don't try to go viral with every video. Instead, put out an authentic platform filled with content that reflects your brand ideals. If you do that, you'll grow an engaged audience in no time, with moments of viral content. An engaged audience wants to watch you grow and cheers you on every step of the way.
A great example of all three of these things combined is a campaign started by DSW last year. DSW ran the #TooManyShoes campaign, encouraging users to create videos with #TooManyShoes to show the inside of their closets. 770,000 users participated, and videos with the hashtag were viewed more than 1.3 billion times. WHY?? They just felt like it was a fun thing to do.
Here's what they did:
DSW brought in five influencers to promote the challenge and inspire others to join, including Brittany Xavier (@brittany.xavier), Janina (@official_janina), Bria Jones (@heybriajones), Rodney Lee (@kidrl), Everett Williams (@iameverettwilliams).

Then they worked with hip-hop singer Devmo and recording artist Julian Xtra on an original song for people to use in their videos. In case you didn't know, TikTok is super-centered around music. It actually started out as a lip-syncing contest app called Musical.ly. TikTok users had several opportunities to win things in this challenge.
- A full closet of shoes
- 10 gift cards valued at $500 each.

Based on those 1.3 billion views and the fact that about 61 percent of millennials (18-34) report that influencers have at one point impacted their consumer decisions, this was a smart move by DSW. It's only the beginning.


A New Outlook Towards Social Media
TikTok's algorithm democratizes creativity among creators and makes it easy to step in as a new creator. The number of followers you have doesn't matter because the algorithm sends your videos out, despite your history of likes and followers. As users engage with your content, it continues to get pushed out to more users.

The TikTok algorithm serves you content you want to consume in a feed of content called For You. It caters to your unique preference based on the content you already engage with. That's very different from Instagram — on Instagram users first see the content posted by whoever they follow in their feed. They have to leave that feed to seek out content from other users they don't follow. The TikTok algorithm puts higher priority on feeding you content you'd like — no matter who posts it — and less focus on the content of the other creators you follow.
TikTok brings the opportunity to access global rising talent (potential influencers) on a new level. This phenomenon applies to every genre of entertainment. Talent isn't determined like other traditional social platforms. The girl next door may be more talented than celebrities on the app. TikTok is knocking down barriers to entry — creators can go from zero followers to millions seemingly overnight. Now is a great time for brands to think about how they can ride this wave of new talent.


Connecting Commerce with Human Creators
TikTok continues to remove the roadblocks of a traditional media gatekeeper. People react to seeing other people like them in content and in creators. The content they connect with most ends up being content that reminds them of themselves — it's relatable. And because TikTok serves up preferential content by design, you have to know your audience well in order to get your content in front of them
Social platforms continue to release new features for consumers to purchase products without ever leaving the app. Brands have a real opportunity to start to take advantage of the new and rapidly improving social shopping experience alongside content that's relatable. Here's an example.

Walmart partnered with TikTok to host a shoppable live stream experience that grew their following by 25 percent. Users were able to shop while interacting with their favorite TikTok creators. In addition to being educated and entertained, viewers were able to participate in a seamless shopping experience where they could tap on a product and check out during or after the livestream.

The traditional purchasing funnel has evolved, and because of e-commerce and social commerce, the funnel is much shorter than it used to be. So, what really drives consumers to make a purchase now-a-days? The bottom line is emotion. It's the story of how your company was built or how your product has impacted its users — consumers want to be moved. The goal of earned media on TikTok is to make a great product, and then leverage the content that average consumers create using your product.


How to Find the right TikTok Influencer For Your Brand
We've said it already and we'll say it again: When brands are looking for creators to work with, the key is finding an authentic fit. As influencer marketing evolves, brands have less control, and the creator has more power. Long gone are the days of detailed pitch decks and strict talking points. Now, creators tell brands what works best with their audience. So, finding exactly the right TikToker for your brand takes patience and a willingness to be open-minded.

Thankfully, TikTok makes it easy to find and connect with one by providing a library of content creators in the TikTok Creator Marketplace, or TCM. TCM facilitates quick and effective introductions, tracks real-time data, and allows the content to be promoted with specified targeting and a clickable CTA. Stick to these 3 points, and you'll be on your way to finding your person.
1. Find a Niche
The single most important shift in the behavior of social media users occurred over the past year. Social media today is more interesting and interactive than it has ever been. Users want a voice for an individual thing. On TikTok, there are over 600 million voices that all focus on a very specific niche. Creators can build communities around their niches, and that's what they become known for. They are the go-to for one specific aspect of a distinct thing. ANYthing. Whether it's how to make the world's tallest ice cream cone or the funniest meme about millennials. What's your brand's niche? If you don't know, maybe hop on TikTok and start looking...
2. Focus on the perfect fit, not the largest following.
If a creator wouldn't use your product organically, you shouldn't partner with them for a sponsored collaboration. The users of TikTok will sniff out inauthenticity immediately. They know when creators are just in it for the money. If a creator uses your products organically simply because they want to, they would be a great addition to your influencer list. Even if they don't have a crazy following, if their content is good and relates well to their audience's interests, TikTok will serve it up to other users with similar interests.
3. Be open and realistic about budget
Navigating how to build a TikTok audience is an entirely different ball game for large brands versus small businesses. It's easier for corporate brands to get earned media on TikTok due to their size, which is part of the reason creators expect to be paid more by large brands.
Creators are more likely to accept an unpaid collaboration from small businesses that don't have marketing budgets. But beware — creators will go public in a heartbeat if you mistreat them, undersell them, or treat them as a campaign rather than a human.


TikTok is For Brands Who Are Comfortable Being Real
TikTok is not for every brand. TikTok is the social platform to connect with consumers in a real, unfiltered way. If you need your brand's message crafted perfectly and there's no margin for creative interpretation, the kinds of influencers and viewers that thrive on TikTok may not be the right fit for your brand. But on the flip side, if you have a strong point of view, odds are, there's a niche group of creators on TikTok who share that view. And they carry some serious weight within their TikTok community. As a brand, the first step is to just show up authentically on TikTok. That's it, that's all it takes.
BACK TO Blog